Corporate Auto Shipping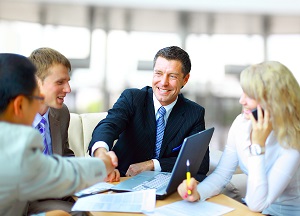 Opening a new office? Restructuring? We understand that today's demanding marketplace requires companies to be nimble and to execute business plans quickly. If you need to relocate your corporate fleet, or even move just a few cars, here are a handful of reasons why you'll want to strongly consider Riley Auto Transport as your partner in the next phase of your business.
On-Time Delivery
We know that you can't afford to gamble your business success on a second-rate carrier who may or may not get your cars there on time. We can expedite shipping, and we can also work with you to streamline the process to minimize your costs. Our "faster, cheaper, better" policy is even more important when it comes to corporate moves. We aren't just another car moving company; we're a partner in your business success. We'll make sure to minimize disruption of your workflows in every way possible.
Safety is a High Priority
You don't need to worry about compliance issues when you ship with us. Our drivers are licensed, insured, and DOT/FMCSA compliant. We take safety very seriously and we don't take risks with the vehicles we are transporting. We know that you've got a piece of your business riding on us, so we take every precaution we can—and then some!
Competitive Pricing
We've engineered a system of efficiency that allows us to lower our prices without cutting corners on quality or reliability of delivery. We're able to beat our competitors' pricing for many different regions and routes. We don't cut prices by lowballing our vendors; we do it by constantly looking for ways to eliminate needless and redundant steps in our operations. We know that you have a limited budget and we are committed to helping you do what you need to do within the constraints you have. We run a business too!
Experience with Multiple Vehicle Types
Whether you need to move a fleet of regular passenger vehicles, delivery trucks, motorcycles, buses, or even industrial cranes, we can take care of it all. We not only have all of the specialized equipment needed to move these various types of vehicles, but we keep up with all of the necessary licensing and certification requirements. We have the right expertise to get the job done smoothly and give you an accurate price quotation up front.
Business Experience
We're not just like any other car shipper. When you hire us to move your corporate vehicles, we become an active stakeholder in your business. Your bottom line is our bottom line, and your success is our success. We'll work with you on delivery times, logistics, and anything that will make your job easier. We can ship vehicles a few at a time, or we can ship them all at once—and if you aren't sure how to go about it in the most efficient manner, we'll help! We are experienced at handling the specific needs of corporate customers, so let us help you today.
Testimonials
My dune buggy was shipped across the country without issue and delivered without any complaints!
Nathan C.
Riley Auto Transport customer
Track Your Order